Motivative.
Easy handling
Benefit from our intuitive authoring tools and effortlessly design learning content for your company.
Effective.
Smart Features
Smart features combined with a scientific algorithm ensure personalized and effective learning.
Quick.
Fast Integration
KnowledgeFox provides interfaces for your LMS or HR system and can be integrated anywhere - even additionally to your existing training courses.
Lerning with KnowledgeFox
Mobile MicroLearning
KnowledgeFox provides a simple and efficient way to optimally train employees in your company. You can convey learning content in a targeted manner with our learning app and e-learning software. With MicroLearning knowledge is gained faster and also consolidated in the long term. Discover all the advantages of optimized e-learning and start into the digital age of learning with KnowledgeFox.
More about MicroLearning
Efficient learning model
The eLearning Tool for your business
KnowledgeFox makes use of findings of the psychology of learning and of brain researches. With a wide range of functions and simple usage, the MicroLearning tool can be used quickly and easily in your company. Our mobile learning app can be used on any iOS or Android device and in any browser.
Further information regarding the app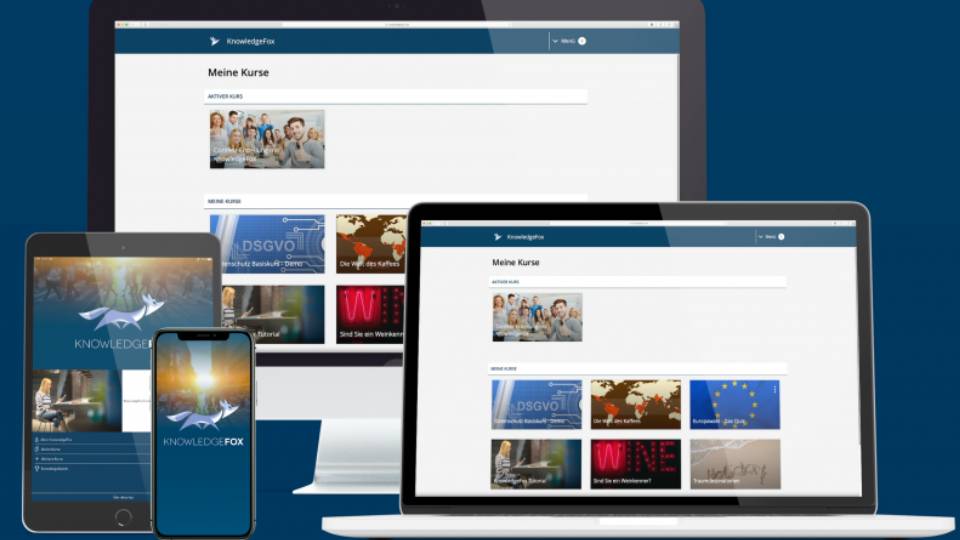 Only a few steps to your e-learning
Just start
Contact
Don't hesitate sending us a non-binding request and find out which individual options we can implement for you.
Integration
Our learning app can be quickly and easily integrated into your LMS or used independently. We are looking forward to helping you.
Course management
Our experts will coach you in creating courses or, if requested, will create an entire individual course program for you.
Start
Step into the new age of e-learning. We are always there for you if you have any further questions or requests.
Gained interest?
Looking forward to advising you.
Don't hesitate sending us a non-binding inquiry and start into the new age of mobile learning.
Start now